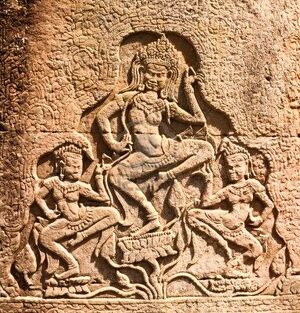 Apsara is Hindu water and cloud spirit, sometimes represented as mermaids.
They are actually shapechangers. Since Apsaras are related to water, they can be compared to Greek Nymphs, Dryads and Naiad. They also care for fallen heroes, like Valkyries of North.
Apsaras like to dance a lot, they are said to live in Indra (heaven) and come down to seduce men with their dance. Thus they are mostly represented by dancing figures in art and architecture.
References
Edit
Paul Carus, THE HISTORY OF THE DEVIL
Ad blocker interference detected!
Wikia is a free-to-use site that makes money from advertising. We have a modified experience for viewers using ad blockers

Wikia is not accessible if you've made further modifications. Remove the custom ad blocker rule(s) and the page will load as expected.