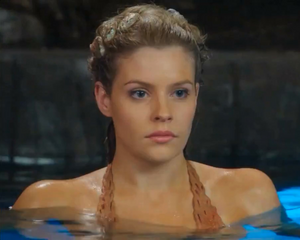 Aquata is a character on Mako: Island of Secrets.
Biography
Edit
She is a member of the pod who always follows the rules. She, along with the rest of the pod, abandoned Lyla, Sirena, and Nixie after they let Zac Blakely into the Moon Pool during a full moon. Despite this, Aquata has a very close relationship with her younger sister, Sirena, and, before leaving, even gives her sister her Moon Ring. Aquata is friends with her fellow mermaid Maya.
Ad blocker interference detected!
Wikia is a free-to-use site that makes money from advertising. We have a modified experience for viewers using ad blockers

Wikia is not accessible if you've made further modifications. Remove the custom ad blocker rule(s) and the page will load as expected.