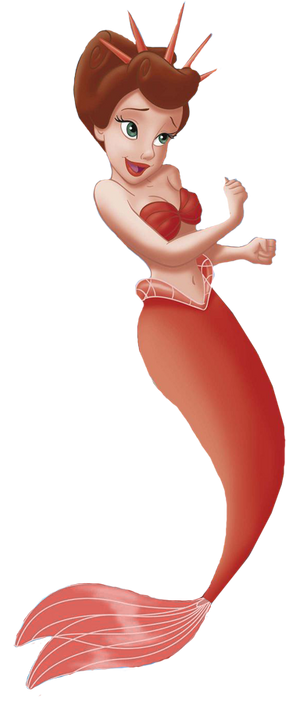 Attina is a mermaid from The Little Mermaid. She is a orange tailed mermaid. In her 2008 portrayal, her age causes her to feel a certain sense of responsibility for her sisters. She is described by her sisters in that film as being bossy, but ironically, she herself is often bossed around when her siblings outvote her. She has been voiced by Caroline Vasicek in the original film, Kath Soucie in the TV series, Kari Wahlgren in Ariel's Beginning, and Christie Houser in Kingdom Hearts II.
Here are her favorites:
Attina is 21 years old.
Her sisters say that she's responsible.
Her favorite hobby is researching the history of the sea.
Her pet peeve is mer-people that litter in the coral reef.
Her biggest fear is letting her father down.
Her favorite food is kelp wrap.
Her favorite color is orange.
Her favorite genre of music is classical.
Her favorite instrument is the harp.
In the book series, she's a bookworm and a writer and owns a catfish named Fin-Fin.
In a Disney Princess Magazine, she becomes married to a prince from a far-away kingdom.
The Little MermaidEdit
The Little Mermaid II: Return to the SeaEdit
The Little Mermaid: Ariel's BeginningEdit
The Little Mermaid: The SeriesEdit
Kingdom Hearts IIEdit
Ad blocker interference detected!
Wikia is a free-to-use site that makes money from advertising. We have a modified experience for viewers using ad blockers

Wikia is not accessible if you've made further modifications. Remove the custom ad blocker rule(s) and the page will load as expected.