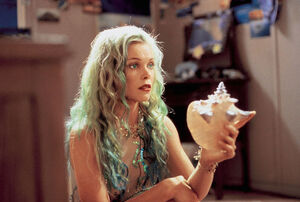 Betty is a mermaid in a movie named Mermaids. Betty was portrayed by two actresses: Geneviève Lemon (older) and Holly Brisley (younger).
Biography
Edit
Betty is Earl's wife, and she has forgotten her mermaid heritage after spending so much time on land. Venus gives the birthright shell back to Betty, causing her to transform back into her younger mermaid form, and urges her to return to the sea. Betty, however, declines, because she now has a human daughter, Tessa, and instead asks Venus to keep her birthright safe.
Ad blocker interference detected!
Wikia is a free-to-use site that makes money from advertising. We have a modified experience for viewers using ad blockers

Wikia is not accessible if you've made further modifications. Remove the custom ad blocker rule(s) and the page will load as expected.