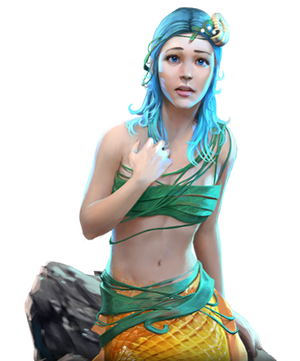 Calliope is a blue haired and yellow tailed mermaid from the game Nightmares From The Deep 2: The Siren's Call.
Biography
Edit
Mayor Murray signed a deal with Davy Jones. Davy Jones sent Calliope to be caught in fishermen net, as a payment to Mayor Murray. Calliope used her powers to attract fish near the Kingsmouth village, so the villagers could eat. Mayor Murray then took Calliope's powers, and threatened her to create the Golden Octopus, and took control of the Kraken. The whole Kingsmouth village was cursed with fish curse as a result. One of the praetorians fell in love with Calliope and rescued her from Mayor's clutches. He intended to end the fish curse and return Calliope to the ocean, for that they needed Golden Octopus and 12 Golden Fish tokens. Golden Octopus was locked in a box, but only Sara Black could open it. The rogue praetorian went to get Sara's help, but the Golden Octopus was stolen. Praetorian brought Sara Black to meet Calliope. Calliope explained her situation to Sara, and Sara agreed to help the siren. While they were talking the thieves handed the Golden Octopus to Mayor Murray and he summoned the Kraken, which then kidnapped Calliope again. Mayor Murry took Calliope into the lighthouse. Sara set out on a quest to save her. Sara Managed to find everything needed to open Davy Jones' locker which hid the conch of Calliope. Sara then gave the conch back to Calliope, who used it to shatter the golden octopus, releasing her power from Mayor's control. Calliope controlled the Kraken for the last time, pulling the Mayor to the bottom of the sea. Fishman then took Calliope back into the sea, which lifted the fish curse from the people of Kingsmouth.
Ad blocker interference detected!
Wikia is a free-to-use site that makes money from advertising. We have a modified experience for viewers using ad blockers

Wikia is not accessible if you've made further modifications. Remove the custom ad blocker rule(s) and the page will load as expected.