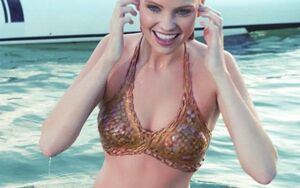 Canadian Mermaid is a mermaid character appearing in TV-series Mako: Island of Secrets. Canadian mermaid is portrayed by the actress Melina Vidler.
Biography
Edit
Canadian Mermaid is a Northern mermaid that was captured on a tape while floating on the surface and singing the Northern Pod enchantment song. She then dragged one kayaking man underwater and attacked the cameraman.
The video was later posted to YouTube. When Sirena watched the video, she fell under the effects of the enchantment.
This mermaid seems much more wild and wicked compared to other mermaids who only used their powers as self defense. She attacked two men unprovoked. She may be an outcast since she used a forbidden siren song.
Ad blocker interference detected!
Wikia is a free-to-use site that makes money from advertising. We have a modified experience for viewers using ad blockers

Wikia is not accessible if you've made further modifications. Remove the custom ad blocker rule(s) and the page will load as expected.