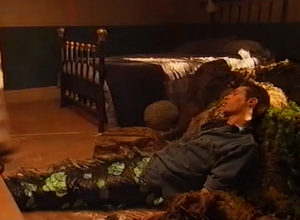 Harris Pembleton is the main character in TV-series "Seriously Weird", he was temporarily turned into a merman in the 9th episode of Season 2, "Harris and the Mermaid". Harris is portrayed by Ryan Cartwright.
Biography
Edit
Harris Pembleton, a new arrival from England, has a magnet for all that is weird after he disrespects Steve, the Ruler of The Weird Dimension. He befriends locals Fenella Day and Hugo Short.
On one occasion he met a mermaid, named Muriel, who promised to teach Harris to swim. Harris took care of the mermaid, but Muriel had ulterior motives. By taking Harris' lock of hair, and with a magic kiss, Muriel transferred her tail to Harris, and Harris' legs to her. Muriel then left Harris into a leaking bath, which would eventually kill him, since the merpeople tail needs to be kept wet. Fenella and Hugo found Harris in time and took him into a bathtub. They then took Harris to the school's pool party in a wheel chair. They hoped that by burning the lock of hair Muriel took he'd be transformed back to human, but it didn't work. They then located Muriel in hopes that the kiss would break the spell. They found her in the courtyard with Bear Clarke, about to kiss. While speeding to Muriel, the wheelchair got stuck which flung Harris out of it and onto Muriel, Harris took the chance and kissed Muriel. The spell was broken and Harris got his legs back, and Muriel disappeared with a splash of water.