This article is about
Lorelei, the character from a TV-series Zapped
. You may be looking for
other characters named Lorelei
.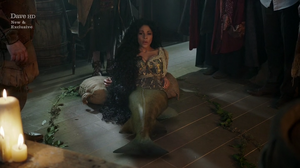 Lorelei is a demifin in a parallel world from an UK TV-show Zapped second episode from season 1, named "Mr. Charisma".
Biography
Edit
Lorelei answered Steg's dating add, and summoned Steg to her lake. She revealed who she was to Steg and they hit it off. Lorelei and Steg went on a romantic trip on a down, while she was in a barrel, rolled around by Steg. When they went back to her place at the lake, she revealed that they can't get it on, because she doesn't have the necessary parts for it, and all demifins use external fertilization.
Steg then decided to use the charm potion on her she she'd agree to be turned into a woman so they could be together. Since demifins are technically two beings magically conjoined, occupying the same time and space, Howell did the separation spell. The spell worked, however the fish part was what was left in their time and space. The fish part was later cooked and eaten.
Ad blocker interference detected!
Wikia is a free-to-use site that makes money from advertising. We have a modified experience for viewers using ad blockers

Wikia is not accessible if you've made further modifications. Remove the custom ad blocker rule(s) and the page will load as expected.