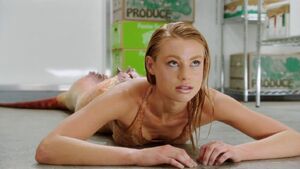 Lyla was a main character in the first season of Mako: Island of Secrets. She is portrayed by Lucy Fry.
Biography
Edit
She's a fiery mermaid, and she's very determined and passionate. Over time, Lyla develops romantic feelings for the new merman, Zac Blakely. After the first season she went away with Nixie and the pod to find a new home.
Ad blocker interference detected!
Wikia is a free-to-use site that makes money from advertising. We have a modified experience for viewers using ad blockers

Wikia is not accessible if you've made further modifications. Remove the custom ad blocker rule(s) and the page will load as expected.