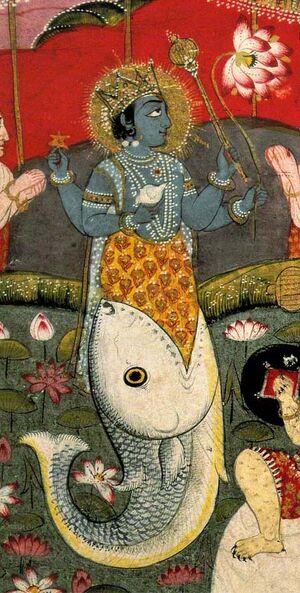 Matsya is the fish avatar of Vishnu in Hindu mythology. He has four hands, upper-body of a man and lower-body of a fish.
Matsya came to Manu as a regular small fish, and asked to be saved in return he would save Manu from the flood. Matsya told Manu to build a giant boat. Manu first kept him in a bowl, then in the tank, then in a pond, and then he took him to sea because the pond was too small for him. The flood game and Matsya saved Manu, by pulling the boat with his fin to a mountaintop.
References
Edit
Paul Carus, THE HISTORY OF THE DEVIL
Ad blocker interference detected!
Wikia is a free-to-use site that makes money from advertising. We have a modified experience for viewers using ad blockers

Wikia is not accessible if you've made further modifications. Remove the custom ad blocker rule(s) and the page will load as expected.