This article is about
Miranda, the 1948 movie
. You may be looking for
Miranda, the character who appears in this film
.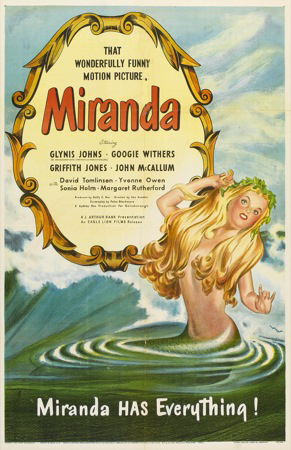 Miranda is a 1948 movie that takes place in England. The movie has a sequel named Mad About Men.
Mermaid named Miranda saves John, a married man who was on a fishing holiday alone. She at first holds him as prisoner, but decides to release him on a condition that he'd take her to see London. She however don't grow feet when her tail is dry, so she came up with a plan that she is Paul's patient who's in a wheelchair recovering. In London she seduces two engaged men Charles and Nigel to a point that they both leave their women and want to propose to Miranda. Paul's own wife starts to suspect that Miranda is a mermaid. Miranda decides to leave to sea again justifying it with a wish to migrate to warmer climate. But actually she was pregnant, and she gave birth to her baby in the sea.
Ad blocker interference detected!
Wikia is a free-to-use site that makes money from advertising. We have a modified experience for viewers using ad blockers

Wikia is not accessible if you've made further modifications. Remove the custom ad blocker rule(s) and the page will load as expected.