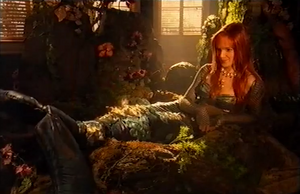 Muriel is the mermaid character who appeared in the "Seriously Weird" 9th episode "Harris and the Mermaid" of Season 2. She is portrayed by actress Marianne Farley.
Biography
Edit
Muriel appeared in Harris Pembleton's bedroom and offered him a deal to teach him how to swim, and in return Harris would teach her about his world. Muriel let Harris pour salt in the pool so she'd feel more at home while she was in there. Harris took her to restaurant once, in a wheelchair, but Muriel was disappointed that the fish there were cooked.
Muriel took a lock of Harris' hair and used her magic on him. Muriel tricked Harris into kissing her which led to them switching the tail and legs. Muriel then dislodged a stone from her mermaid pool, leaving Harris without water, which he now needed to stay alive. Muriel went to the school where she was seen by Harris' friends who went to his house to save him.
Muriel went to the pool party where she tried new foods. Muriel led both Bear Clarke and Wayne Kaluta on, using them to learn more about human customs. Eventually she wanted to learn more about kissing and took Bear to the courtyard. It was there Harris caught up with her and kissed her to break the spell. Harris got back his legs and Muriel disappeared in a watery splash.