This article is about
Mutya, the Philippine TV series
. You may be looking for
Mutya, the character who appears in this series
.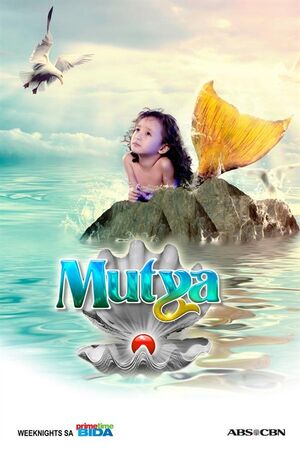 Mutya is a Philippine fantasy series produced and aired by ABS-CBN that is based on Pablo S. Gomez's comic of the same name. The series introduced the network's newest discovered child actress Mutya Orquia. The series premiered on January 31, 2011 on ABS-CBN's primetime slot.
Mutya embarks the story of a child mermaid who grew up in the midst of human civilization.
Mutya (Mutya Orquia), a child mermaid, was born due to the love of her parents, Cordelia (Precious Lara Quigaman), a human, and Prinsipe Irvin (Alfred Vargas), the Prince of the seaworld kingdom. However, their relationship was forbidden as Irvin is set to be married with another royalty mermaid, Nerissa (Nina Jose). Cordelia was pregnant at the time of their relationship, and was forced to give birth to the child. The child was born with an unknown disability, where her legs were attached to each other. Cordelia's mother, Delilah (Sandy Andolong), sees this, horrified and decided to dispatch the child. She assigned Tonyo (Jayson Gainza) to take away the baby. Tonyo however brought the child into their home and treated her as their own and named her Mutya. As Mutya grows up, she was protected by her older brother Aries (Jairus Aquino), who has always been there for her. Mutya was still yet to realize that she is a mermaid. With her legs being attached to each other, it was mistaken as a disability although it was actually her mermaid tail slowly forming. As the story unfolds, Mutya struggles to blend in to the human world while her parents struggles to find and be to be reunited with her.
Main cast
Edit
Angel Olano as Mutya
Jairus Aquino as Aries
Precious Lara Quigaman as Cordella/Ella Sardenas
Alfred Vargas as Prinsipe Irvin
Extended cast
Edit
Sandy Andolong as Madame Delilah Sardenas
Pen Medina as Haring Merrick
Malou Crisologo as Octopina
Ahron Villena as Zale
Niña Jose as Nerissa
Gary Lim as Lolo Sheldon
Jayson Gainza as Tonyo
Tess Antonio as Ester
Ogie Diaz as Rommel
Amy Nobleza as Merci
Piero Vergara as Dennis Sardenas
Yen Santos as Melinda
Cacai Bautista
Lassy as Mameng
Special Participation
Edit
Izzy Canillo as Young Aries
Carlo Lacana as Young Dennis
Michael Conan as Rudy
April Sun as Sirena
Justin Gonzales as Sireno
Jovic Susim as Sireno
Joe Vargas as Lumot
Jubail Andres as Eskale
Ad blocker interference detected!
Wikia is a free-to-use site that makes money from advertising. We have a modified experience for viewers using ad blockers

Wikia is not accessible if you've made further modifications. Remove the custom ad blocker rule(s) and the page will load as expected.