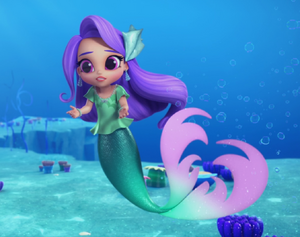 Nila is a mermaid from the TV-series Shimmer and Shine. Edit
Biography
Edit
Nila is a mermaid who lives in the waters near Zahramay Falls that Leah and her genies befriend in "Mermaid Mayhem". When Leah uses up all her wishes, preventing Leah and her Genies from returning to their non-mermaid selves, she assists Leah and her genies in acquiring the Mermaid Gem, which allows its user to transform into a mermaid and back. She is almost like Zeta. In "Trick or Treasure" Nila, Leah, and her Genies go on a treasure hunt but a seacitter named Gazi grabs it from her hands to get the treasure for himself.
Nila enjoys eating s'mores.
She is seen in the Episodes "Mermaid Mayhem'' and ''Trick or Treasure''
Ad blocker interference detected!
Wikia is a free-to-use site that makes money from advertising. We have a modified experience for viewers using ad blockers

Wikia is not accessible if you've made further modifications. Remove the custom ad blocker rule(s) and the page will load as expected.