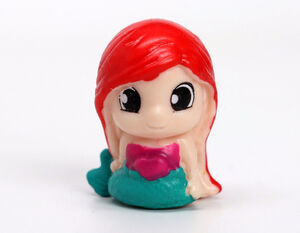 Squinkies, the popular toy series, has a mermaid character named Melinda Shells in the series.
She comes in different variations yet her ambiguously primary colors are blonde hair, pink tank top and purple tail (judging by the hoodie on the Squinkies online shop).
She also returns in the Squinkies happy meal promotion at McDonald's. In which she wears a crown an comes in two different variations.
In a related note, Squinkies also made mini figures of Ariel, her father Triton, and her sister Attina.
There is also a rare Squinkie, named Merteddy.
Ad blocker interference detected!
Wikia is a free-to-use site that makes money from advertising. We have a modified experience for viewers using ad blockers

Wikia is not accessible if you've made further modifications. Remove the custom ad blocker rule(s) and the page will load as expected.