This article is about
The Little Mermaid, 1989 film made by Disney
. You may be looking for
other things named The Little Mermaid
.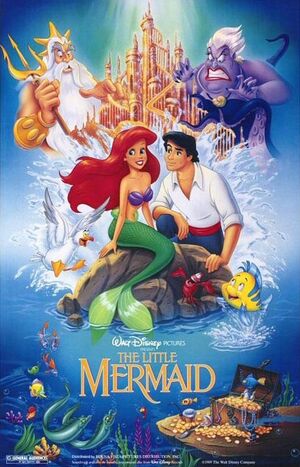 The Little Mermaid (Walt Disney Film) is about a girl named Ariel who is a mermaid, and is very interested in the human world. Her father, Triton, does not want her to know about the human world, because Ariel's mother, Athena was killed when a band of pirate's ship pinned her against the rock and she was killed. From that moment on, Ariel's father never wanted her to learn about the human world. The movie got two sequels: The Little Mermaid II: Return to the Sea, The Little Mermaid: Ariel's Beginning; and a TV series The Little Mermaid.
Characters
Edit
Ad blocker interference detected!
Wikia is a free-to-use site that makes money from advertising. We have a modified experience for viewers using ad blockers

Wikia is not accessible if you've made further modifications. Remove the custom ad blocker rule(s) and the page will load as expected.