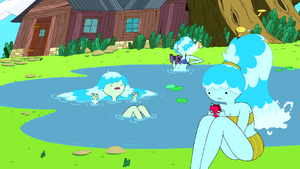 Water Nymphs are water spirits from traditional folklore, in Adventure Time, they are depicted as having moving bodies of water for hair and wearing swimsuits. The Nymphs are known for their lack of being able to tell a good joke without messing it up.
Ad blocker interference detected!
Wikia is a free-to-use site that makes money from advertising. We have a modified experience for viewers using ad blockers

Wikia is not accessible if you've made further modifications. Remove the custom ad blocker rule(s) and the page will load as expected.