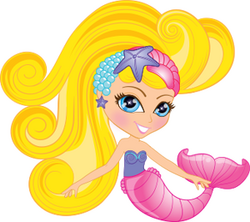 Waverly is a mermaid who can't get enough of singing, dancing, and most of all, dressing up. She loves riding her seahorse Sunglow as they search for the most beautiful seashells in the sea. Waverly finds all kinds of fun uses for her shells: to wear in her hair, to decorate the homes of her pet crab Gumbo and her pet fish Zuli and to give to her best friends as jewelry. Her little sister is Mirabella.
Ad blocker interference detected!
Wikia is a free-to-use site that makes money from advertising. We have a modified experience for viewers using ad blockers

Wikia is not accessible if you've made further modifications. Remove the custom ad blocker rule(s) and the page will load as expected.